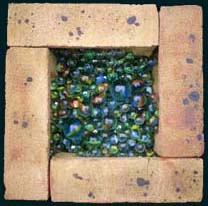 MAGIC STONES is a soundscape installation by sound artist Robert Jarvis commissioned by the Millennium Court Arts Centre in Portadown and had its premiere in Northern Ireland in June 2005. It was the winning work in the new media category of this year's British Composer Awards

Inspired by the south east corner of Lough Neagh and its surrounding countryside, the work takes its title from a listening game played by young visitors to the Portmore Nature Reserve who would be invited to take a 'magic stone', grasp it, and with their eyes closed see what they could hear. In the moment of stillness offered to them by the game, sounds that would usually be ignored would seep into the consciousness of the listeners. As a result the players would become aware of not only the detail of those sounds surrounding them but also the wonder of them, and before long imaginations would run riot....

These days we too find ourselves surrounded by sounds and yet, for the most part, ignore them. Living in an increasingly noisy society, our lifestyles are becoming faster and quite often with the result that we are also less likely to stop and take note of the detail offered by our surroundings. Consequently, we are losing our connection with an important part of our environment.

Jarvis's ghostly score is composed from recordings taken from around the lough together with sections of an interview with Aghalee resident, Eddie Franklin. The layered sounds tell their own story of a countryside on the verge of change - an area being taken over by the 'progress' of our time. 'Magic Stones' invites the listener to pause and to reconsider this relationship.

The installation set up is very simple. In the middle of the room is a small container constructed out of four bricks which contains the marbles, together with some chairs for sitting down. On one of the walls there is the text (from the work) describing how to play the 'Magic Stones' listening game. The sound is either projected from loudspeakers or can be listened on headphones, attached to the chairs.