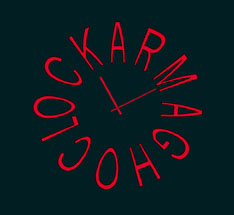 ARMAGHOCLOCK is a sound artwork based on sounds collected from the City of Armagh. The work takes the form of a virtual timepiece utilising a ten-metre square Gallery space, and playing a different sound recorded from around the City every minute.

With the aid of twelve loudspeakers positioned around the gallery in similar manner to the numbers around the circumference of a clock face, each of the sounds pans around the gallery space imitating the sweep of a clock's second hand. The recordings range from the intimate to the well-known – from pre-natal ultrasound to grave digging – referencing local trades, leisure and nature. A visual element in the centre of the gallery provides a guide for listening, and together the sounds combine to give their own account of the City's identity, the people within it, and our changing soundscape.

Nearly a year in the making, the project involved a wide cross-section of life in Armagh – from parrots to sportsmen, and from scientists to the clergy – as Robert and his assistant Julie sought to understand the City through the ears of those who live there. At every stage of the way, the people of Armagh City were very supportive of the project, and the variation of the sounds that feature in the work truly reflect the generosity of everyone's time as well as their enthusiasm in helping capture the project's different elements. A website documenting the process of creating the work as well as recordings of all the different sounds has also been published at www.armaghoclock.wordpress.com. A short BBC news feature on the work can also be seen here.

The installation was exhibited at the Market Place Theatre Main Gallery, in Armagh, between 16th April and 15th May, 2010.